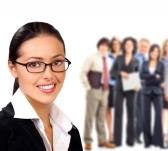 Confianza specialises in permanent recruitment for middle and top management positions.

About Us >>

The Company

Founded in 2009, on the cornerstone of offering customised and comprehensive executive recruitment solutions. At Confianza, a mélange of minds from varied disciplines complement each other to provide recruitment solutions for middle and top management.
At Confianza, we leverage pan-India presence and international collaborations to enable the very best in executive search. Our efforts are focused on identifying not just potential leaders but also their areas of expertise. This ensures the recruitment of the right person for the right position in the right organisation.
We seek to represent the needs of the employing organisations and approach the interested candidates, rather than the other way around. Our core strength lies in our ability to encompass the whole spectrum of recruitment activities; right from advertising the vacancy, to scrutinizing the application to simplifying the joining formalities. This is the reason why today many companies looking for high-level executives in Asia-Pacific opt to collaborate with Confianza.
Connect with us
| | | | |
| --- | --- | --- | --- |
| Linkedin | Twitter | RSS Feed | Email |
Confianza, meaning
trust in Spanish, represents the company's promise of valuing and building strong customer relationships